GREAT BIG HOLIDAY HOME IN FRIESLAND
Do you also have visions of a great big family house with friends or family? Eating at a long table, chatting away in front of the open fire, wandering along the mudflats and playing fun, old-fashioned games with the kids… it Dreamlân has a special 7 to 10 person holiday home available for hire with 5 bedrooms and 2 bathrooms. This authentic farm has a lot of atmosphere in itself but with all the luxury of a modern house. Here you can all cook together, eat at the long table in the old part and carry on chatting while the children play in the cushioned area. There are 2 separate living areas: if you want to relax for a bit, then just settle into the sofa in the charming front room.
HOLIDAY HOME FOR 7 TO 10 PEOPLE
In summer and winter, this family house is a great spot to spend time with your loved ones. You can spend days on end enjoying the Frisian outdoor life. But staying in and around the house is a pleasure, too. In the summer, you can eat outdoors at the large picnic table. In the winter, you can curl up in front of the open fire. In the summer, your children can enjoy all the fun things for kids at the small campsite. In the winter, you can enjoy the peace, space and nature. You'll be pleasantly surprised by just how nice it is here: check the map of the Lauwersmeer surroundings with lots of tips.
CHILDFRIENDLY FAMILY HOUSE
Kids have all the space they need here. Playing with sand and water, a game of football, a ride on the go-cart, a trip to the dyke with a fishing net or just messing around.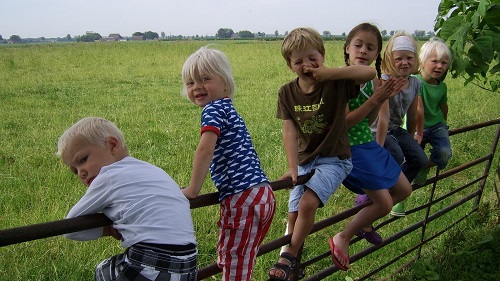 Since the campsite is safe for children, they are free to do what they like (without big people around telling them what to do). How cool is that? Yes they get dirty. Sometimes really dirty. But luckily there's a washing machine. You can find out all you need to know about it Dreamlân for children here.
GROUP OF MORE THAN 10 PEOPLE
If your group is a slightly larger than 10 persons, you can easily combine the 10 person family house with the cosy 4 person holiday home or choose for the comfortable designer holiday homes.
Family house
Weekend
or midweek
Week
Low season
€ 695
€ 1095
Mid season
€ 795
€ 1195
National holidays
€ 895
€ 1295
High season
€ 1395
Low season: November through March
Mid season: April through 1st week of July and September through October
National holidays: Easter, Ascension, Pentecost, Christmas and Newyear
High season: 2nd week of July through August
In the low season and the mid season, a standard week runs from Friday to Friday or from Monday to Monday. A standard long weekend runs from Friday to Monday and a standard midweek runs from from Monday to Friday. Outside the schoolholidays is in these seasons also an other arrival- or departure day possible except Saturday. In the high season, one can rent only for a week and a week runs from Saturday to Saturday.
In the family house is the arrival time on the day of arrival from 16:00 hour and the departure time on the day of departure no later than 10:00 hour.
| | |
| --- | --- |
| Cleaning (mandatory) at the end of your stay | € 85 |
| Tourist tax p.p. per night (as of 13 years of age) | € 1,50 |
| Bedsheets double bed | € 15 |
| Bedsheets single bed | € 9 |
| Bath towels (2 pieces), bath mat and kitchen towels | € 7 |
| Bike rental per day | € 5 |
| Bike trailer (for child or dog) rental per day | € 10 |
| Use canoes, kayaks and go-karts | free |
| Wireless internet (wifi) | free |
One dog is allowed in the family house provided the dog is not on the sofas and not above. Smoking and other pets are not allowed!
You would like to book the family house? You can book it online, or you can call or e-mail us.
Downstairs
In the large area of the family house, where cows used to stand at the barn windows, you will find the open kitchen with its enormous dining table. Here you can enjoy cooking together before spending hours lingering at the table and chatting. In the corner under the barn windows there is a long corner sofa with cushions where the children can chill out – away from the adults. This area is fully fitted out with underfloor heating, as are the bathroom, WC and hallway.
In the cosy old front room with attractive wooden floors, there is a large corner sofa and a TV. And there are games in the old box bed cupboard. Here, too, there is a wooden stove for cosy winter evenings. From the front room in the family house you have a great view of the meadows.
There is a very special bedroom in the sun house with a great view of the pastures, and doors that open out onto the footbridge. So, even before you're properly awake, you can go outside and sit on the footbridge in the sun. The bedroom has a double bed and there is a separate small bathroom with a shower and toilet next to the bedroom.
The large bathroom is also downstairs – with double shower and a king-size bath, a separate toilet and a long hallway for coats, shoes and boots.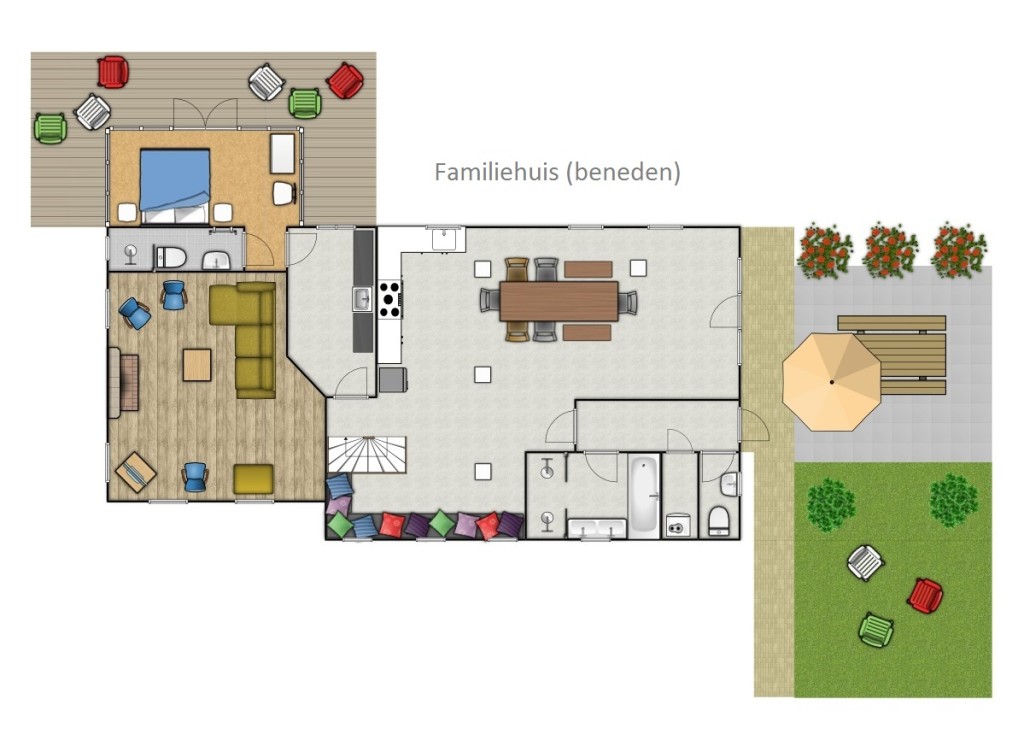 Upstairs
Upstairs there are four more bedrooms, two of which have a double bed and two with two single beds each. In one of the bedrooms there is also a childbed (60 x 120). It is easy to add one more cot here. All the bedrooms are light and airy and have a great view of the meadows with sheep and lambs in the spring.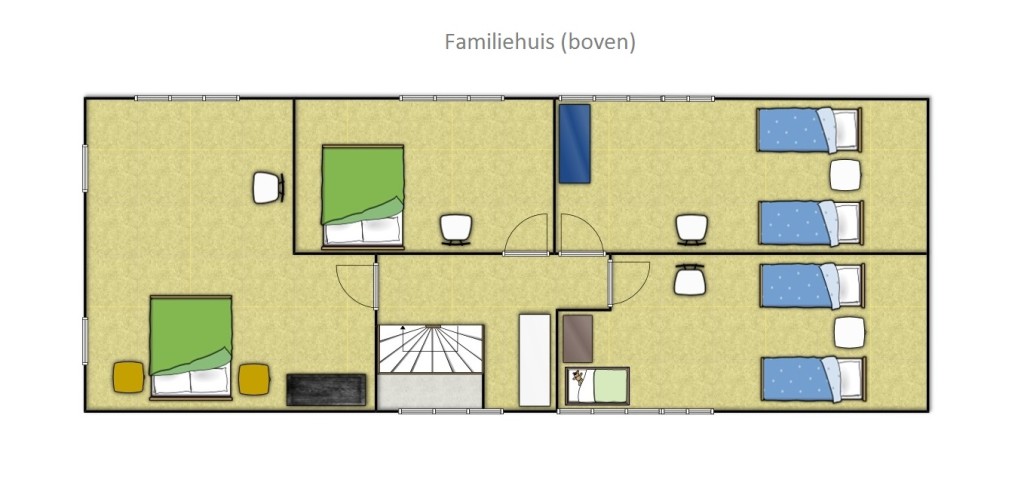 3x double bed (160 x 200) with 2 pillows and duvet (200 x 200)
4x single bed (90 x 200) with pillow and duvet (140 x 200)
1x childbed (60 x 120) and on request an extra camping cot
rental of bedsheets, bath towels and kitchen towels
free wifi
fully fitted kitchen
washing machine
large fridge-freezer
oven
microwave
Quooker
gas oven with five rings
coffeemachine (filter) and Senseo
television
wireless music system

Harman Kardon Omni 20 Plus

with Bluetooth and Spotify Connect
underfloor heating in the adjacent barn, large bathroom and WC
lots of toys and games
wood-burning stove (+ wood for the first evening)
large bath and double shower
2nd bathroom with shower and toilet
cots and high chairs upon request
washing machine
covered wood burning stove
jetty with 2 Canadian canoes and 2 kayaks (free to use)
football field with 2 football goals
korfball basket
fishing spot
children's playground
sandpit
trampoline (one for the smaller and one for the bigger kids)
table tennis table (inside and outside)
Go-karts, balance bikes, tricycles, wheelbarrows and children's bikes
reception with a lot of information about the surroundings and maps for sale
the bakery provides sandwiches during the high season
bike hire (also bike trailer)
bike shed with charging station (free) for electric bikes
parking (free) with charging station (2x11KW) for electric cars
Below you will find some activities which are nice to do in a group. When you want a good overview of more activities in the region, take a look at our page surroundings.
Sailing across the Wadden Sea and/or the Lauwersmeer
Sailing the seas together on a ship also creates a feeling of kinship ! In Lauwersoog, you can board the big ship MS Tender and sail over the Wadden Sea, between the islands and out to the North Sea! Go fishing for mackerel or cod and experience the sailor's life up close. Also sailing but in a different way: why not all go on a canoe trip across the Lauwersmeer?
Walks through the mudflats
World heritage site the Wadden Sea is the spot where you can get your whole team involved in a challenge, while gathering fresh inspiration at the same time. A walk through the mudflats at Wadloopcentrum Fryslân really is an experience that you must have had at least once. And by that we don't mean just a simple walk. You walk along the bottom of the sea, through mud flats and water; you are challenged by the elements; and on the way you see birds, sometimes seals and the most incredible skies full of clouds.
Of course, you have to make sure that you all get to the other side in time, and sometimes you will be wading through waist-high water. And once it's over, you'll all get together to wash the mud off your shoes and legs … what better way to create team spirit!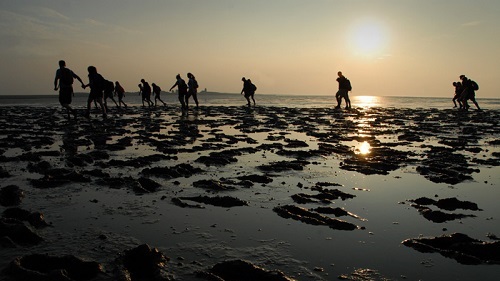 We can organise an exclusive trip for you with the best mudflat guide who will tell you everything about this wonderfully beautiful world heritage. If you have younger children (below 10 years), you can also choose for a rambling route, a children's route and/or a horse and wagon round trip at Paeasens-Moddergat.
Outdoor activities in Nationaal Park Lauwersmeer
We can also organise a variety of activities in the Lauwersmeer National Park. Mountain biking, stepping, GPS tours, adventurous walks with the forest ranger, sailing (this is also possible on the mudflats) or you can all cycle the famous Rondje Lauwersmeer (45 km).
And if you fancy a really fun day out in between sessions, then rent a few Tuktuk's and enjoy a real experience with the relaxing 1 cylinder diesel cars.
Cookingworkshops
Very nice to do together is the cooking workshop of Kookstudio@Home. Cooking together, tasting and drinking a glass of wine… even the children can help. Special for it Dreamlân Erna has made a biological and vegetarian menu, but there are also other possibilities. Everything can be done in the nice communal area, so you don't have to go away for food.
You can check the availability of the family house here and book online directly.
If the family house is no longer available, please try one or more comfortable designer holiday homes.