Hold meetings in the countryside
Is your organisation or business looking for an inspiring spot for brainstorming sessions, away-days, training courses or team outings? Inspiration literally grows on trees here in our designer business accommodation 'Lân, Loft, Wetter and Waad'. It's Frisian for land, air, water and mudflats and that's exactly what you'll find. Meetings in the countryside and brainstorming with views! Cross the threshold and find yourself in the middle of the Frisian countryside. Drawing inspiration from outside, or getting a breath of fresh air between sessions, is really easy here. The business accommodation It Dreamlân is close to National Park Lauwersmeer and to UNESCO World Heritage the Wadden Sea, so outdoor activities – such as walking across the mudflats, mountain biking or going for a walk – are very easy to organise.
BUSINESS ACCOMMODATION
In the business accommodation is room for 4 to 14 people in 4 cosy houses under the large roof of an attractive 'barn'. In the middle, you'll find a great communal area that is perfect for meetings, brainstorming and training sessions. If you need to work in groups, then this can be done in the 4 separate houses. Every house has a seating area where you can work in peace.
There is, of course, free Wi-Fi available everywhere, and meeting facilities such as flip-charts and beamers are provided. The communal area of the business accommodation has a large kitchen where you can all cook together at the end of the day. Because what could be better after a day of brainstorming than cooking and eating with your colleagues? Naturally, we also have contacts with different regional cooks who can supply tasty meals.
FROM 4 TO 14 PEOPLE
All the houses of the business accommodation have two bedrooms: in total there are 8 separate bedrooms, each with a washbasin. Each of the houses has its own bathroom; and each house has 2 toilets, a kitchen and a cosy seating area. The houses have huge windows looking out on the panoramic view so you can relax between work sessions. In total there are 14 beds in the 4 houses. People who just want to relax between times can retreat to one of the four houses. Detailed information about the group accommodation can be found here.
Would you like to book the business accommodation? With outdoor activities? Or with professional guidance for brainstorming? With catering? Or whatever else you might desire? Then get in touch with us!
Below you will find some activities in the surroundings which are nice to do in a group. Besides these specific activities we can also arrange other groupactivities on request.
Walks through the mudflats
World heritage site the Wadden Sea is the spot where you can get your whole team involved in a challenge, while gathering fresh inspiration at the same time. A walk through the mudflats at Wadloopcentrum Fryslân or Wadloopcentrum Pieterburen really is an experience that you must have had at least once. And by that we don't mean just a simple walk. You walk along the bottom of the sea, through mud flats and water; you are challenged by the elements; and on the way you see birds, sometimes seals and the most incredible skies full of clouds.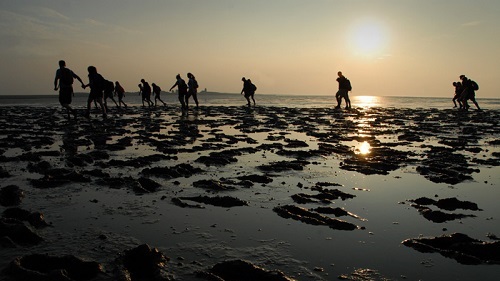 Of course, you have to make sure that you all get to the other side in time, and sometimes you will be wading through waist-high water. And once it's over, you'll all get together to wash the mud off your shoes and legs … what better way to create team spirit!
Sailing across the Wadden Sea and/or the Lauwersmeer
Sailing the seas together on a ship also creates a feeling of kinship ! In Lauwersoog, you can board the big ship MS Tender and sail over the Wadden Sea, between the islands and out to the North Sea! Go fishing for mackerel or cod and experience the sailor's life up close. Also sailing but in a different way: why not all go on a canoe trip across the Lauwersmeer?
Outdoor activities in Nationaal Park Lauwersmeer
We can also organise a variety of activities in the Lauwersmeer National Park. Mountain biking, stepping, GPS tours, adventurous walks with the forest ranger, sailing (this is also possible on the mudflats) or you can all cycle the famous Rondje Lauwersmeer (45 km).
And if you fancy a really fun day out in between sessions, then rent a few Tuktuk's and enjoy a real experience with the relaxing 1 cylinder diesel cars.