HOLIDAY HOMES IN FRIESLAND BESIDE NATURAL CAMPSITE
Lân, Loft, Wetter and Waad. This is what these great designer holiday homes – that all come under the roof of one large 'barn' – are known as. These are the Frisian words for land, air, water and mudflats. And that's all you have around you here… There are no motorways, no crowds and no air pollution or densely built up areas. But you do get vast cloudy skies, nature and space. With the risk that you relax, enjoy yourself or relax. Be careful .
Under the large roof of the attractive farmhouse, you will find 4 holiday homes (two 4-person holiday homes and two 6-person holiday homes) and a communal area. Be seduced by the design of the interiors and choose the one that suits you best. With friends or family you can of course also hire two or three next to one another. Or all four! The communal area in the middle can be rented out for exclusive use if you want to share the space with several other families. You can cook together in a large kitchen, all eat together at a long table and chat away as the children play in the cushioned area. If you book all four houses next to one another then you get the communal area thrown in for free.
DESIGNER HOLIDAY HOMES
The colours and design of the four houses fit in with the themes. Did you have any idea that nature could be so colourful? The huge windows at the front and back, the breath-taking view… it's as if the countryside were there at the table with you. The colours used strengthen this effect. You can just sit here and spend the whole day watching the clouds float by… it seems that daydreaming is extremely good for the soul. You can, of course, also venture out where there are lots of great things to do and experience: we have put the best tips here for you in a list.
IN THE MIDDLE OF THE COUNTRYSIDE
Lân, Loft, Wetter and Waad are located next to the small green campsite it Dreamlân. In the summer and during school holidays you can thus enjoy the conviviality of the campsite.
CHILDFRIENDLY AREA
Children head off in their pyjamas with the other children at the campsite to the sandpit or trampoline. Or with a fishing net or home-made fishing rod, they make their way to the jetty out back. Only to return hours later, happy and with new friends. Oh yes, and filthy. Sometimes really filthy . But fortunately there's a washing machine.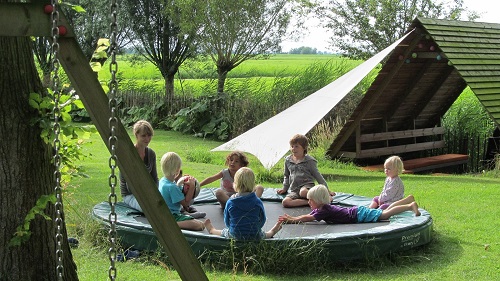 The little ones can also do what they fancy because the campsite is safe for children: there is no chance of them coming across water or cars. So you don't have to watch over them the whole time… How cool is that? Read all about children in it Dreamlân here.
Calendar or book
2 to 4-person
home Lân or Waad
Weekend
or midweek
Week
Low season
€ 295
€ 495
Mid season
€ 395
€ 595
National holidays
€ 495
€ 795
High season
€ 895
Cleaning (mandatory) at the end of your stay: € 35
5 to 6-person
home Loft or Wetter
Weekend
or midweek
Week
Low season
€ 345
€ 595
Mid season
€ 445
€ 695
National holidays
€ 545
€ 895
High season
€ 995
Cleaning (mandatory) at the end of your stay: € 45
Low season: November through March
Mid season: April through 1st week of July and September through October
National holidays: Easter, Ascension, Pentecost, Christmas and Newyear
High season: 2nd week of July through August
In the low season and the mid season, a standard week runs from Friday to Friday or from Monday to Monday. A standard long weekend runs from Friday to Monday and a standard midweek from Monday to Friday. Outside the schoolholidays is in these seasons also an other arrival- or departure day possible except Saturday. In the high season one can only rent for a week and a week runs from Friday to Friday.
In the designer holiday homes is the arrival time on the day of arrival from 16:00 hour and the departure time on the day of departure no later than 10:00 hour.
| | |
| --- | --- |
| Tourist tax p.p. per night (as of 13 years of age) | € 1,50 |
| Bedsheets double bed | € 15 |
| Bedsheets single bed | € 9 |
| Bath towels (2 pieces), bath mat and kitchen towels | € 7 |
| Bike rental per day | € 5 |
| Bike trailer (for child or dog) rental per day | € 10 |
| Use canoes, kayaks and go-karts | free |
| Wireless internet (wifi) | free |
One dog is allowed in the designer holiday home provided the dog is not on the sofas and not above. Smoking and other pets are not allowed!
You would like to book a designer holiday home? Book the 2-4 person or 5-6 person designer holiday home online or please call or e-mail us.
Downstairs
Lân and Waad are both 4-person houses. Loft and Wetter are 6-person houses. Downstairs, all the houses have well-equipped kitchens and cosy living rooms with great views. There is underfloor heating, a cosy dining area and everything has been lovingly decorated. On the terrace, you can simply relax in comfy chairs. The children have their own messing around and play area in the house. There is also a separate toilet downstairs.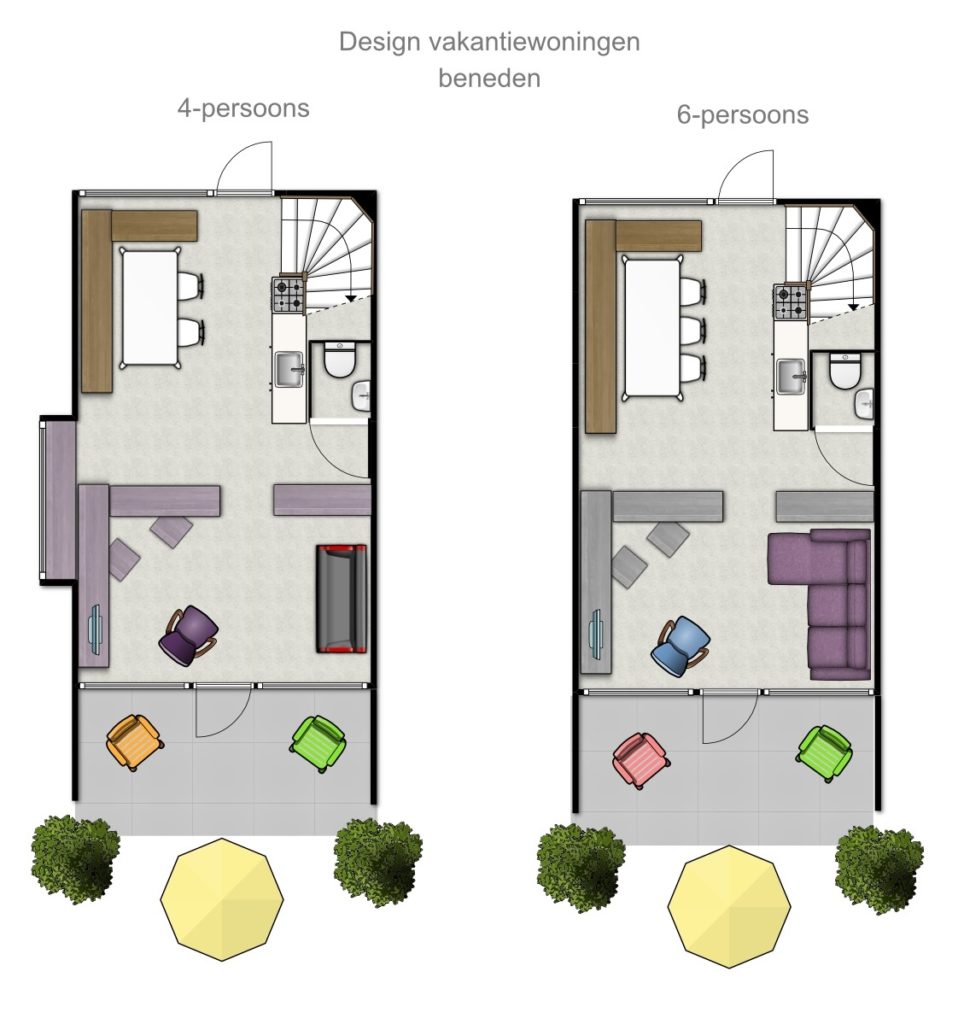 Upstairs
All the houses have large, light bedrooms with double beds and a free-standing bath with a great view. Good box spring beds with quality mattresses, comfy duvets and large windows. In the 4-person houses, the second bedroom is equipped with a single bed with a trundle bed. In this bedroom, we can also set up a cot instead of the trundle bed. The spacious and light bathrooms all have a shower, washbasin and separate toilet.
In the 6-person house, the second bedroom has two single beds on the one side and a cosy double box bed on the other. The box bed has a spyhole so you can see what the weather's like; if it doesn't look promising, then you can simply stay in bed a bit longer . This room can sleep 4 people. The charming bathroom has a double shower, a washbasin and a separate toilet.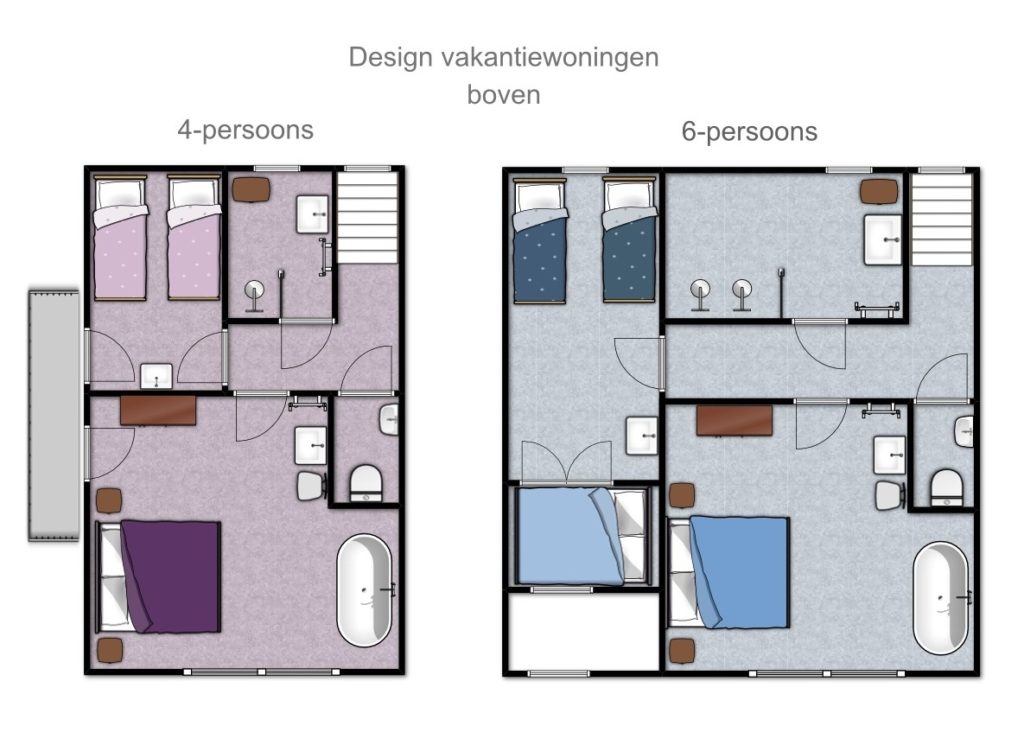 Outside
All the houses have south-facing private terraces (with the panoramic views) with comfy loungers. On the other side of the building there is a communal sheltered orchard with long tables where you can sit outside and eat when the weather's good. Here, too, there is a sandpit for the little ones you want to keep an eye on. From the sheltered orchard, the children can make their way to the small campsite.
1x double bed (180 x 200) with 2 pillows and duvet (220 x 240)
2x single bed (90 x 200) with pillow and duvet (140 x 200)
6-person: 1x double (160 x 200) with 2 pillows and duvet (200 x 200)
rental of bedsheets, bath towels and kitchen towels
free wifi
fully fitted kitchen
washing machine
refrigerator (without freezer)
oven
coffeemachine (filter)
water cooker
television with built-in DVD player
underfloor heating downstairs
toys, crafts and games
large free-standing bath and separate bathroom with shower
cots and high chairs upon request
use of the washing machine
wood burning stove in the orchard
jetty with 2 Canadian canoes and 2 kayaks (free to use)
football field with 2 football goals
korfball basket
fishing spot
children's playground
sandpit
trampoline (one for the smaller and one for the bigger kids)
table tennis table (inside and outside)
Go-karts, balance bikes, tricycles, wheelbarrows and children's bikes
reception with a lot of information about the surroundings and maps for sale
the bakery provides sandwiches during the high season
bike hire (also bike trailer)
bike shed with charging station (free) for electric bikes
parking (free) with charging station (2x11KW) for electric cars